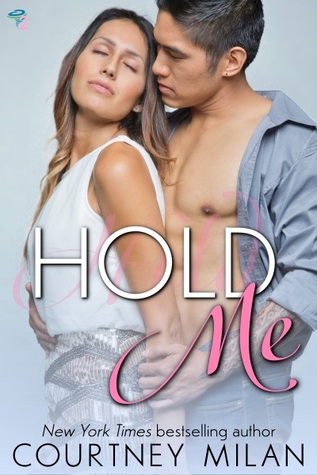 Author:
Courtney Milan
Narrator: Xe Sands, Sean Crisden
Title:
Hold Me
(Cyclone #2)
Genre: Contemporary Romance
Pages: Audiobook
Published:
October 25th 2016
Where I Got It: My shelf (Audible)
Jay na Thalang is a demanding, driven genius. He doesn't know how to stop or even slow down. The instant he lays eyes on Maria Lopez, he knows that she is a sexy distraction he can't afford. He's done his best to keep her at arm's length, and he's succeeded beyond his wildest dreams.
Maria has always been cautious. Now that her once-tiny, apocalypse-centered blog is hitting the mainstream, she's even more careful about preserving her online anonymity. She hasn't sent so much as a picture to the commenter she's interacted with for eighteen months—not even after emails, hour-long chats, and a friendship that is slowly turning into more. Maybe one day, they'll meet and see what happens.
But unbeknownst to them both, Jay is Maria's commenter. They've already met. They already hate each other. And two determined enemies are about to discover that they've been secretly falling in love…
I listened to the first one a while back. I was little unsure about this one since it is taking a break of the two main characters to focus on the roommate Maria and Jay. Not that that is a bad thing...but I really want more of the other two. It was fun seeing them through other people's eyes though.
So, Jay is a demanding genius. Aka a big smart asshole. Maria is a beautiful woman who is also really smart, but there is a huge secret of hers. They meet and hate each other right away, because Jay is an ass. He assumes Maria is like his ex and only cares for her beauty and is a basic chick. Selfie, Starbucks, heels, the works. Little do they know they already love each other! Maria is secretly "M" who is a popular Science Blogger. Jay is "M"'s number 1 fan and they have been chatting for a couple of years and are falling for each other. Oh boy.
This was fun. I loved seeing the characters hate each other and then bitch about it to someone else, but they are actually bitching about that person. It was fun. It was a mess and I loved it. I really loved when they found out. AWKWARD! "Oh hey - yea....the asshole was you I was talking about. HA." Lots of hurt feelings and lots of baggage between these two. Jay has a million reasons why he is an ass. Maria has a million reasons why she is not trusting and is cautious. Poor her and poor him.
I was pleasantly surprised when we find out that Maria is a transexual. She had made the switch years past and she is happy. Kind of a spoiler, but not really. I was also so happy that Jay didn't care. It didn't even phase him since he is bi and he just wants Maria. It was sweet. He didn't pry and ask embarrassing questions that a lot of people as the trans community. Is it your business? If they wanna tell you they will.
I didn't really have any issues with the story. I wanted to smack both of them especially Jay. He frustrated me soooooooooooo much, but he is a Sheldon and isn't the best with realizing he was wrong and that he's an ass. But he does figure it out...slowly. It worked though for him. And kuddos for this not being insta-love. They had a lot to work out.
The narrators did awesome. They made me more hooked to these characters and their voices were perfect.
Overall, I really did love this story. The characters were dynamic and complex and amazing. Lots of issues. Lots of hurt feelings. Lots to work through. I do miss our main characters so I am excited about the next book. Buuuuuut this was a nice side story to see Maria find love. I'll stamp this with 5 stars.