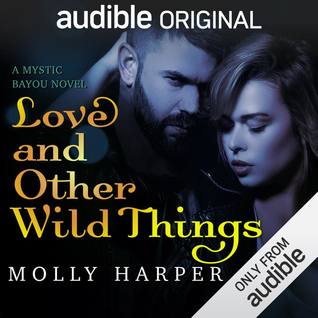 Author:
Molly Harper
Narrator: Amanda Ronconi & Jonathan Davis
Title:
Love and Other Wild Things
(Mystic Bayou #2)
Genre: PNR, Fantasy, & mystery
Pages: Audiobook
Published:
September 4th 2018
Where I Got It: My shelf (Audible)
Welcome to Mystic Bayou, a tiny town hidden in the swamp where shape-shifters, vampires, witches, and dragons live alongside humans. The town formed around the mysterious energy rift in the bayou, which helps keep the town's magic in balance. But lately the rift has been widening and destabilizing - threatening to send the town's magical population into chaos.
Energy witch Danica Teel has been sent by the League to figure out what's going on, with the help of bear-shifter Mayor Zed. While working on the case, Zed falls head over paws for Dani, but she's reluctant to engage in anything beyond a roll in his cave. Dani's family is counting on her to get the job done, and she has no time for distractions. But when an ominous presence begins stalking Dani through the bayou, they'll need to band together to make it out alive.
Just like pie...you cannot have just one piece. Wait...is that a saying? Or am I making things up. LOLL But yess - I was super curious to dive into book 2.
This time the story follows Mayor Zed and Danica. Zed is a bear shifter who is the unlikely mayor. Danica (Dani) has special powers that will help take care of shutting the rift that is causing problems for the town. The two have chemistry from page one, but Dani isn't big on relationships and doesn't plan on staying long.
I did love how they had an easy friendship from page 1. Yes, there was burning chemistry right away but they didn't act on it. I also love how friendly both of these people are. They are so kind and warm and loving. No brooding or fights. Sure they had to overcome her aversion to relationships but Zed didn't force anything on her. They went HER pace. I liked it.
The mystery was an easy one. There was a small twist there I didn't see coming, but it was pretty predictable this time around. Oh well. It does make me worried though for the next book. Hopefully, the mystery is a touch better and my mysterious.
I also worry about that rift! Eeee! Especially what happened happened? It doesn't look good, to be honest.
Zed is a big ham and I loved him!!! *cuddles*
Dani was...okay. I warmed up to her a bit. I WANTED SOMEONE TO BEAT UP HER FATHER! GRRR! *shakes fist* This better be resolved darnit! Grrrr.
The narrators seemed more fit for these two over the last book they read. These characters seemed to match their voices more. So I enjoyed the audio more so than the last one.
Overall...I liked this a lot. The mystery was meh this time around. However, I adore Zed and I liked Dani after a bit. I loved the dynamic of their relationship and how easy it was. Sure there was a touch of drama there. But you could see how much they loved each other. I'll give this....mmmm...3. WHEN IS THE NEXT BOOK COMING OUT! I WANT MORE!
Book 9 of 16/25