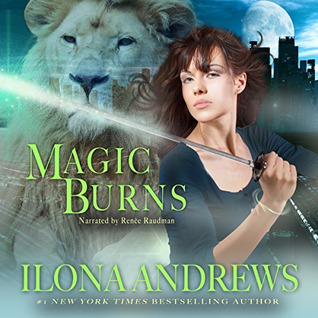 Author: Ilona Andrews
Narrator: Renée Raudman
Title:
Magic Burns
(Kate Daniels #2)
Genre: Paranormal, Fantasy, & UF
Pages: Audiobook
Published: 2008
Where I Got It: My shelf (Audible)
As a mercenary who cleans up after magic gone wrong, Kate Daniels has seen her share of occupational hazards. Normally, waves of paranormal energy ebb and flow across Atlanta like a tide. But once every seven years, a flare comes, a time when magic runs rampant. Now Kate's going to have to deal with problems on a much bigger scale: a divine one.
When Kate sets out to retrieve a set of stolen maps for the Pack, Atlanta's paramilitary clan of shapeshifters, she quickly realizes much more at stake. During a flare, gods and goddesses can manifest – and battle for power. The stolen maps are only the opening gambit in an epic tug-of-war between two gods hoping for rebirth. And if Kate can't stop the cataclysmic showdown, the city may not survive…
I had issues with the first book, but this did not deter me from checking out book 2. People love this series and so I decided to give the series one more chance and since I had my monthly freebie from Audible, I decided to get this one.
Kate is a mercenary who cleans up after magic goes wrong. Well, this time a tide of magic is coming that will boost everyone's powers. She has to retrieve a set of stolen maps that was stolen from the Pack. Well...nothing can be simple or easy. She has to deal with a lot in this one.
I'm actually liking Kate. I wasn't a huge fan in the last one, but we get to understand her more. Personally and her powers. We got to see more of the world and it connected a lot of dots for me. I'm slowly liking Curran...a bit. He's still an asshat, but I understand him more now.
This was SO much better than the first one. I could hardly step away and turn off the audiobook. I had to listen to more. I was hooked from the first page. The narrator was really, really good so I think this helped me like the story and characters more. The writing and the narration were amazing.
I do want to see what happens next, but I was content on how they ended this book. No cliffies. Just some promise and a question. I am curious, but I don't feel forced...which is a huge plus and the way to end a book in a series.
So yessssss, if you did not like book 1, do not stop. Read or listen to book 2. So good. I'll stamp this with 5 stars. I had zero issues.