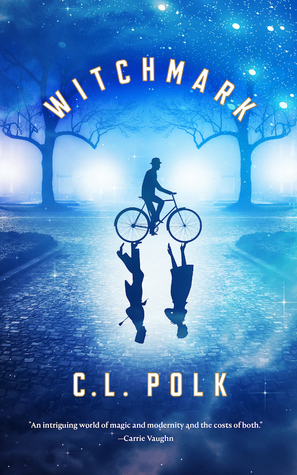 Author: C.L Polk
Narrator: Samuel Roukin
Title: Witchmark (Witchmark #1)
Genre: Fantasy, Historical Fiction, Romance, Mystery
Pages: Audiobook
Published: June 19, 2018
Where I Got It: My shelf (Audible)
In an original world reminiscent of Edwardian England in the shadow of a World War, cabals of noble families use their unique magical gifts to control the fates of nations, while one young man seeks only to live a life of his own.
Magic marked Miles Singer for suffering the day he was born, doomed either to be enslaved to his family's interest or to be committed to a witches' asylum. He went to war to escape his destiny and came home a different man, but he couldn't leave his past behind. The war between Aeland and Laneer leaves men changed, strangers to their friends and family, but even after faking his own death and reinventing himself as a doctor at a cash-strapped veterans' hospital, Miles can't hide what he truly is.
When a fatally poisoned patient exposes Miles' healing gift and his witchmark, he must put his anonymity and freedom at risk to investigate his patient's murder. To find the truth he'll need to rely on the family he despises, and on the kindness of the most gorgeous man he's ever seen.
I've heard nonstop about this book and it made me curious to check it out. I was just going to wait to see if I can find the paper version somewhere, but then I found this on Audible and it is narrated by an actor I really like…..so I decided to get this as my freebie for the month.
The story follows Miles who ran away from his family and joined the war and now is a doctor. Miles is a witch and I don't blame him for running away. He was doomed either to be enslaved to his family's interest. Not something I would like either. However, he has to be careful because witches are known and anyone who is one is sent to an asylum for witches. Things happen and he is dragged back into the world of witches and his family in search of the truth.
I really enjoyed this world. It was an interesting one. I was confused in the beginning, but as the story went on everything was explained and it has made me more curious about this world and especially Miles. The poor guy! All he wants to do is be a doctor and live in peace. I would've run away too if I was doomed to be part of that world and family. Hopefully, things will change, but I have my doubts.
The romance aspect was done well between Miles and Hunter. It did not take over and that is good. I am suspect of Hunter like Grace is especially knowing his kind. We shall see…I hope I am proven wrong, but I am not sure of Hunter. Maybe I am being protective of Miles since I like him so much. We shall see.
The ending was good! I am so curious to read the next book! I MUST KNOW WHAT HAPPENS NOW! I have hope in this world, but I am worried things will not change. People are horrible.
Now…the narration…was amazing. I could be biased because I like the actor! Haha, but he was good. He really had me hooked even though I was confused and not completely attached to the story the first few pages. He certainly has a way to bring the character and story to life! I want to listen to more of the audios.
In the end, I really enjoyed this story. I have no real complaints or issues. I was a little confused at the beginning, but after a few pages and things started to make sense I was hooked. I listened to this WAY faster than I originally had planned for. I could not stop listening. The narrator was amazing and the story was really, really good. I'll stamp this with 4 stars.