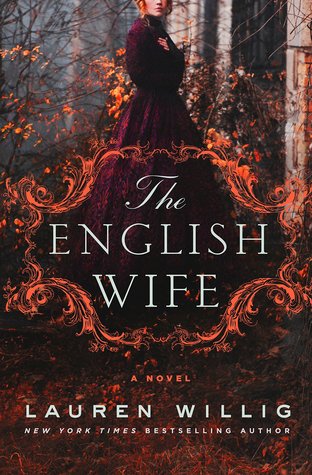 Author: Lauren Willig
Narrator: Barrie Kreinik
Title: The English Wife
Genre: Historical Fiction, Mystery
Pages: Audiobook
Published: Jan 2018
Where I Got It: My shelf (Audible)
Annabelle and Bayard Van Duyvil live a charmed life: he's the scion of an old Knickerbocker family, she grew up in a Tudor manor in England, they had a whirlwind romance in London, they have three-year-old twins on whom they dote, and he's recreated her family home on the banks of the Hudson and renamed it Illyria. Yes, there are rumors that she's having an affair with the architect, but rumors are rumors and people will gossip. But then Bayard is found dead with a knife in his chest on the night of their Twelfth Night Ball, Annabelle goes missing, presumed drowned, and the papers go mad. Bay's sister, Janie, forms an unlikely alliance with a reporter to uncover the truth, convinced that Bay would never have killed his wife, that it must be a third party, but the more she learns about her brother and his wife, the more everything she thought she knew about them starts to unravel. Who were her brother and his wife, really? And why did her brother die with the name George on his lips?
This author really knows how to present a story. I have been in love with this author's work for a while now. So good...especially with a mystery.
This story follows Janie as she left with a murder mystery. Her brother is dead and her sister-in-law missing. Janie swore she had seen a body in the water that night, but none will believe her. Janie is the quiet mouse of the family and she is barely acknowledged. This is her chance to shine and prove herself. She befriends a reporter who wants to find out the truth as well. Sometimes the truth is not as it seems. Even "perfect" people and couples have their secrets.
I did enjoy the duo story here. The main story is Janie, but we get to see from Annabelle's eyes. I was worried this would ruin the mystery, but alas, it left me more confused on who did. There are some red herrings scattered about and I honestly had zero idea. I had my sneaking suspicion about a certain character after a certain event happened.......I will not say, but I was shocked that my suspicion was correct. I thought I was going mad even contemplating this. Shows that love and hate are not so far apart.
Janie was an interesting character and she really did deserve some respect. People were so cruel to her. Same with Annabelle. I wish they had gotten the chance to be friends. I think they would've gotten along well, but with Janie being a mouse and Annabelle being aloof to hide her secrets...they never got the chance.
The reporter was a sweetie, but I had a hard time seeing the chemistry between him and Janie. I'm glad they found each other though.
The narration was done well. I did enjoy listening to her. I feel like I have heard her voice before...but yes, she was good. I wouldn't mind listening to more historicals from her. She has that good historical voice.
The characters were intriguing and the story a complete adventure that had me hooked from the first sentence. The romance aspect did not overwhelm the story. It all felt natural and took the back seat when it had to.
In the end, this was a good listen. The story had me hooked and I did not want to stop listening. I even listened while I was weeding my garden. haha, my poor neighbors having to listen to my gasps and commentary! Let see...rating....5 stars.