Hello all! Blodeuedd and I will be discussing "When Dimple Met Rishi" by Sandhya Menon. Blodeudd is in orange and I am in red.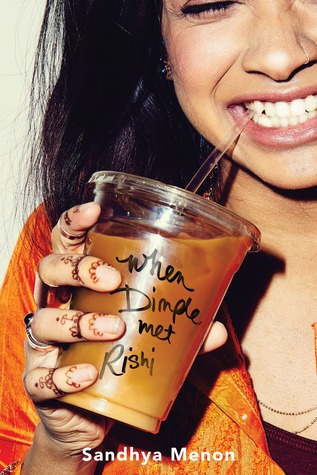 Author: Sandhya Menon
Narrator: Sandhya Menon & Sneha Mathan
Title: When Dimple Met Rishi
Genre: YA & Romance
Pages: audiobook
Published: May 30th 2017
Where I Got It: My Shelf (Freebie)
Dimple Shah has it all figured out. With graduation behind her, she's more than ready for a break from her family, from Mamma's inexplicable obsession with her finding the "Ideal Indian Husband." Ugh. Dimple knows they must respect her principles on some level, though. If they truly believed she needed a husband right now, they wouldn't have paid for her to attend a summer program for aspiring web developers…right?
Rishi Patel is a hopeless romantic. So when his parents tell him that his future wife will be attending the same summer program as him—wherein he'll have to woo her—he's totally on board. Because as silly as it sounds to most people in his life, Rishi wants to be arranged, believes in the power of tradition, stability, and being a part of something much bigger than himself.
The Shahs and Patels didn't mean to start turning the wheels on this "suggested arrangement" so early in their children's lives, but when they noticed them both gravitate toward the same summer program, they figured, Why not?
Dimple and Rishi may think they have each other figured out. But when opposites clash, love works hard to prove itself in the most unexpected ways.
Look, for June is Audiobook month Carole and I will try our first Audiobook together! We chose this one cos I had heard great things about it. And yes, it was actually that good too, at least I thought so ;)
Happy Audiobook month! And yes! I enjoyed it a lot!! Good pick ;)
We did good for once, phew! I guess this was the only good book this year then. WHat should we discuss first?
Yess the first really good one of the year so far and we are in June! WOAH! But let us see….let's start with the narrators. We had two of them. One for Dimple's POV and one for the cutest guy "alive". I adored the narrators. What did you think?
Obviously I am not the person to ask, I have the BIGGEST voice crush on Vikas Adam *happy sigh* I kind of wanna make babies with his voice. There I said it. I love his voice. Love love love love it. Hihi. Ok yes I am smitten. So yes he was good, ahem.
*serious face* The other narrator whom I can not even recall the name of, sorry! But Vikas! Was good too.
Omg yes. His voice was beautiful and smexy. Hehe. He really was the best pic for our male hero. His girl voice made me chuckle though.
I thought the same when I listened to a certain other series he narrated, and then I got used to it, but yes they are still amusing ;) I did like that they did it this way. Cos it really was HIS and HERS pov so they could not have done it any other way.
Agreed. I must listen to more by both of them. They really brought the characters alive! I did not feel like I was listening to an audiobook. It felt like I was listening to a show. So good, so good.
Then we both agree, great narration :) And sure, maybe I would have liked it as much if I read it, or maybe I would not have. I feel like the narration pushed it for me to great.
Yes. The story was good, but I feel the narration gave it an extra star for me. The story was good from page one. Those darn parents ;) I felt bad for Dimple, but she made me mad being all mean to Rishi!!!! HE IS AN ANGEL YOU WICKED WOMAN! *shakes fist*
I did wanna slap her at the end. Rishi loves you you stupid idiot! *shakes fist too* But I did like her parents, sure, it was not cool what they did, but they would never have forced her. They just tried to nudge her and it gave us the BEST opening. Omg I snorted when they met.
I did fall for her parents and especially her dad. They are just trying to help wicked Dimple. It was rude not to tell her, but they know she would've just said forget it. And yes, that meeting was the best in romance history. And he still wanted to stick around!!!???? Love him.
Oh yes, adore him! If I had met a Rishi, awww, a cute nerd! Gold! He tried so hard, gotta love him. I liked how he loved his own culture.
Yes, I liked that too. They are sooooo different, but so similar that they are the perfect couple. What did you think of his brother and Dimple's roomie?
I was not sure about him at start, but then we saw this other side to him and I got him. The roomie, well I wanted to kick her too. Stupid idiot. But then I forgave her.
Agreed. A part of me thought the brother was going to fall for Dimple and Rishi would have to kick his little butt. Hehe. But yes, the roomie was sweet but blinded by lust for the "cool" kids. Sighs. Poor girl.
I did love how they called them Aberzombies (the bad peeps in the story). Hehe, cos they so were! Ugh, I hated them
Me too. They made good "baddies" though. I was hoping one of them who seemed to be not TOO bad would change sides and lead the charge against them. Not real life though. WHICH I must say...the author did a good job keeping this realistic. All the awkward 18 year old moments and dramas that seem so serious but isn't.
It did give good normal drama. I got why the roomie wanted to be cool. It was all well written and felt real.
Yes, I understand her wanting to be friends with them. Things change out of High School...but at the same time they don't.
I am stuck now, nothing more to say, ugh, think think…..heeeeelp!
Ooo. I was reading some reviews on Goodreads. There were some complaints about how people felt that the author didn't spend enough time with the app and their development about it. They complained that the author glossed over it just to get to the romance parts. What do you feel? I felt it was well balanced and I came to read a romance...not a story about how to code an app….
They did not spent a lot of time on the app no, I mean they did, but not in the story. Though would we really want page after page about coding? I was fine with the romance. They still talked about it.
Yes, there was a good balance. The author would spend a couple of pages throughout the book about their class and app and whatnot. Also, this is a YA, but it never felt YA.
I guess it is NA *eyeroll* I just do not get NA! Sorry NA lovers. The edges tend to be so blurry there.
NA?
New adult. Out of HS and in the world. Which they were, but it still could be YA. But not really adult.
Ahhh I am so out of the loop sometimes...I swear I live in a cave. Hehe. But yeah...IDK. It was a good story. The ending had me mad...and then happy...but then mad again because I WANT MORE! I want a short story or maybe Rishi's bro's story. That would be fun.
Same. MAD, and then happy. A story about his brother, hmmm, dunno, since we know things that might happen. No surprise there for me.
I am just curious how the bro's chica (will not give spoilers here) will fit in. I am curious about that aspect mainly. She is not someone the parent's would've picked for him.
True, but then he is not really the "perfect" son either so maybe they are lenient. But yes in that way it would be interesting. But you know we would just get mad if they did not like her. Cos they like each other and they are happy so they should be happy.
I agree. I think the parents will like her after a couple of meetings...but the rest of the family? That will be a bumpy ride. Even a short story will settle my curiosity for sure.
Narrated by Vikas then sure ;)
It better be! He can play the brother. Or just do the whole narration. Haha. I would be fine with that.
Yes! Lol, are we done? Next book will suck for sure now
Don't say thatttt!!!!!!! LOL! But yes, this was a good one and I am happy our first audiobook discussion ended well.
Yay, yes I am glad it worked out.
The end?
The end, Kaj is looking at me with narrow eyes cos he has waited for us to go grocery shopping. He skipped Coffee for it ;)
Hehehe sorrrrrrrrryyyyyy Kaj! *sips on my own coffee*
Running now, byeeeee
Byezzz