Has nothing to do with nothing, but I find it funny. ^.^
Since I have nothing else to post today and I feel like posting this, I share a 'Today in History' post. ^.^
1813 - US nicknamed 'Uncle Sam'
1776 - American Revolution, World's first submarine attacked
1896 - Electric car wins the first auto race in the US
1864 - American Civil War, Atlanta is evacuated
1950 - Cold War, UN defeats Soviet motion
1996 - Tupac Shakur is shot
1921 - Flash Flood hits San Antonio
1977 -Panama to control canal
1950 - Julie Kavner, voice of Marge Simpson, is born
1911 - Guillaume Apollinaire is arrested for stealing the Mona Lisa
1936 - Buddy Holly is born
1876 - Minnesotans nearly wipeout the James-Younger Gang
1977 - US, President Carter agrees to transfer Panama Canal back to Panama
1953 - Maureen Connolly wins US Open
1965 - Vietnam War, Marines launch Operation Piranha
1967 - Vietnam War, McNamara Line announced
1914 - WWI, British commander Sir John French issues first dispatch
1940 - WWII, The Blitz begins
Welcome to Drop It Like It's Hot Hop! This hop is hosted by Charisma Media Network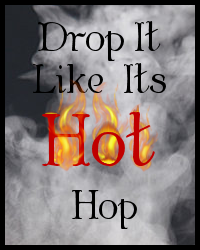 Make sure to link up!
This hop is meant to help DROP our blog stats! Let's flood each other's blogs with love and cookies
1. Add your blog link below
2. Visit and open at least one page on each blog
3. While you are there, follow via GFC/Linky Followers, Facebook, Twitter and Email
4. Be sure to leave a comment so everyone can visit and follow you in return
5. SHARE this hop on Facebook and Twitter, which in turn helps more bloggers find this hop and increase our followers
Linky is open all week and everyone can join!
=======================================
<3CaroleRae