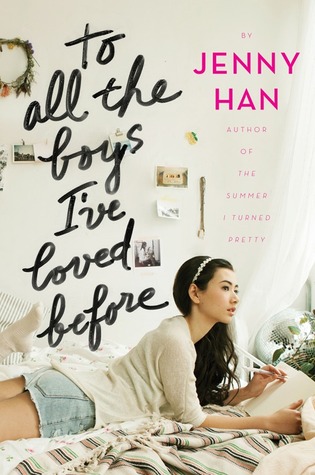 Author: Jenny Han
Narrator: Laura Knight Keating
Title:
To All the Boys I've Loved Before
(To All the Boys I've Loved Before #1)
Genre: YA & Romance
Pages: Audiobook
Published:
April 15th 2014
Where I Got It: My shelf (Audible)
To All the Boys I've Loved Before is the story of Lara Jean, who has never openly admitted her crushes, but instead wrote each boy a letter about how she felt, sealed it, and hid it in a box under her bed. But one day Lara Jean discovers that somehow her secret box of letters has been mailed, causing all her crushes from her past to confront her about the letters: her first kiss, the boy from summer camp, even her sister's ex-boyfriend, Josh. As she learns to deal with her past loves face to face, Lara Jean discovers that something good may come out of these letters after all.
I've been hearing about this book for a while and now there is a movie. I want to watch the movie, but I wanted to read the book first. I nearly caved and watched the movie but then I saw this on Audible so huzzah!
The story follows Lara Jean who is a teen girl and as we all can relate was super into the idea of love and boys. To help herself get over her crushes and "loves" she wrote them goodbye letters. She lists why she loved them and why she is no longer in love. She never sends them, but keeps them as memories. This is a cute idea BUT alas...something happens and they are all sent out to these boys. Oh dear. But, like everything in life, maybe some good will come out after all.
This was a sweet and cute book. I liked Lara Jean and I could relate to her in a lot of ways especially in my High School days. Lots of similarities and a head full of love. I had lots of crushes (thank god I didn't write letters to each one...I would be needing to fight them off). Poor girl. I can't even imagine the horror! I died for her when she realized what happened. I totally figured out what happened and who is to blame. The mystery was not crazy there...easy to figure out. BUT Lara Jean has these men to deal with and can't sit and figure out the whys and hows.
But yes. This was sweet with some drama. It took me a while to really get invested. Maybe it was because I was hoping for instant drama...but there was some character and world building. Once a certain event happened, I was hooked. Slow to start, but worth it in the end.
I did not like Peter or Josh or any of those boys you liked. Nope. Lara Jean you deserve the sun. You are an utter sweetie!!!!! I dread what will happen in the next book, but I shall try it. haha.
The narrator sounded super young. Way younger than 17. But it worked overall. I may just read book 2...we shall see.
In the end, I liked this. It was sweet and it was interesting. I adored Lara Jean and I want her to be happy. She deserves a good boy. The narrator was okay...sounded too young for the character. I'll give this 4 stars overall.