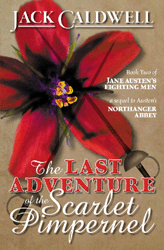 Author: Jack Caldwell
Titles: The Last Adventure of the Scarlet Pimpernel
Genre: Historical Fiction & Adventure
Pages: ebook
First Published: N/A yet (ETA Summer 2016)
Where I Got It: My shelf (Given to me by the author/publisher for my honest and unbiased opinion)
Captain Frederick Tilney, dashing officer and scoundrel, has finally met the girl of his dreams. However, her father is not convinced of Tilney's pledges to reform. This father has a will of iron, for he is none other than Sir Percy Blakeney, the Scarlet Pimpernel!

Now, during the Hundred Days Crisis, an evil from the Pimpernel's past menaces the Blakeney family. Tilney and Sir Percy join forces, but is it enough to take on an entire country and save Violet Blakeney?
Ooooh what an adventure that was! I could hardly put this down. It was a nice continuation of "The Scarlet Pimpernel" series, but the author blended in Jan Austen's worlds! So fun!
This story follows Captain Tilney and Miss Violet who happens to be the now old spy from the Pimpernel books. They find love, but he is an immature boy who Violets papa does not approve of after a stupid night. Sure I felt bad for Tilney, but I get Dad's side. Id have high standards if I had been a badass spy during the Reign of Terror. For sure.
The beginning had me hooked even though it took a bit for the drama and espionage to begin. Tilney was such an idiot. Gah. Sorry...I'll stop bringing it up.
There were some lulls, but oddly not all of them bugged me. Some of them were needed to understand what was going on in the world and to get to know the character. Some other lulls were a meh and I wanted things to speed up a tick.
I want more! Even if its the Pimpernel's last adventure...maybe Violet amd Tilney can continue the League. Ah fun!
Violet though had moments when I wanted to kick her. But I did like her but she wasn't the brightest at times. Lol. Same with Tilney....that's why they need each other. ;)
Now the ending was quick. Good but indeed quick.
In the end, I liked this book. It mixed two things together and it was done well. There were some important lulls and see not so important lulls. The characters were entertaining even though the two mains were certainly stupid - especially Tilney. But alas they are young and will grow. Hehe thus why another book would be funnnnnnnnn. Anyways.....I shall stamp this with 4 stars!