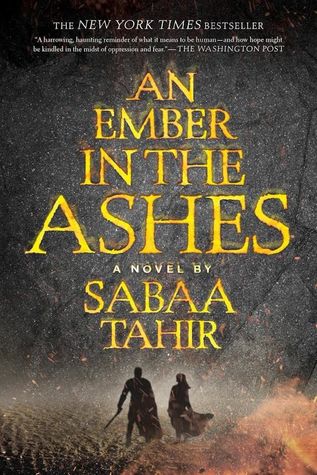 Author: Sabaa Tahir
Titles: An Ember in the Ashes (An Ember in the Ashes #1)
Genre: Fantasy, YA, Romance, & Sci-Fi
Pages: 446
First Published: April 2015
Where I Got It: Borrowed from library
Under the Martial Empire, defiance is met with death. Those who do not vow their blood and bodies to the Emperor risk the execution of their loved ones and the destruction of all they hold dear.

It is in this brutal world, inspired by ancient Rome, that Laia lives with her grandparents and older brother. The family ekes out an existence in the Empire's impoverished backstreets. They do not challenge the Empire. They've seen what happens to those who do.

But when Laia's brother is arrested for treason, Laia is forced to make a decision. In exchange for help from rebels who promise to rescue her brother, she will risk her life to spy for them from within the Empire's greatest military academy.

There, Laia meets Elias, the school's finest soldier—and secretly, its most unwilling. Elias wants only to be free of the tyranny he's being trained to enforce. He and Laia will soon realize that their destinies are intertwined—and that their choices will change the fate of the Empire itself.
No. No.....noooooooooooo! WHY? WHY? I tried....I tried so hard to like this! I know I am in the minority when it comes to the opinion on this. There are so many amazing reviews in regards to this book. But alas this did not settle well with me and I am seriously bummed.
The first 200 pages had me hooked and I was entertained. However, things fell apart pretty quickly and it was certainly a struggle to keep reading forward.
Laia was annoying as all Hell.
Elias wasn't bad. His POV was the most intriguing even though his crush on Helene and Laia was clear as day.
Bleh to love triangle...nah....love squares. It wasn't as bad as I thought and it didn't take over the story. *wipes sweat from brow* So I was certainly glad for that, but bleh especially over Laia. She was so meak and boring. Yes, I do love characters that are full of faults and are weak, but she was SO full of faults and SO weak I was SO bored with her.
Yes, yes, the terror of pretending to be a slave for the evil Commandant and the threat of rape at every corner was certainly scary. I did worry for her well-being, because rape and murder is what I wish on a boring character.
I will be honest...I barely remember the ending. It passed in a blear.
The best part of the book, for me, was the world-building. It was a fun and unique world based off Ancient Rome.
In the end, I am bummed. The beginning was really good and the world-building was amazing. Now the characters were meh. Elias and Helene were not bad, but the other bleh. I really, really wanted to like this, but sadly this was not for me. Out of five stars, I stamp this with 2.