This month Blodeuedd and I will be reading 'In the Company of the Courtesan' by Sarah Dunant! :D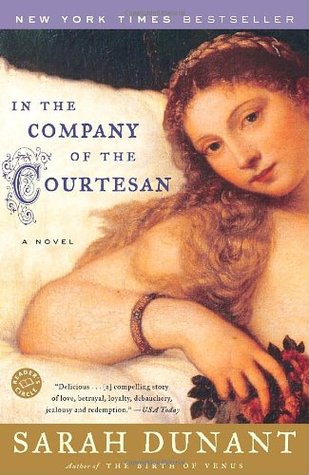 Author: Sarah Dunant
Title: In the Company of the Courtesan
Genre: Historical Fiction
Pages: 368
First Published: 2006
Where I Got It: My shelf (Used book store a long time ago)
Escaping the sack of Rome in 1527, with their stomachs churning on the jewels they have swallowed, the courtesan Fiammetta and her dwarf companion, Bucino, head for Venice, the shimmering city born out of water to become a miracle of east-west trade: rich and rancid, pious and profitable, beautiful and squalid.
With a mix of courage and cunning they infiltrate Venetian society. Together they make the perfect partnership: the sharp-tongued, sharp-witted dwarf, and his vibrant mistress, trained from birth to charm, entertain, and satisfy men who have the money to support her.
Yet as their fortunes rise, this perfect partnership comes under threat, from the searing passion of a lover who wants more than his allotted nights to the attentions of an admiring Turk in search of human novelties for his sultan's court. But Fiammetta and Bucino's greatest challenge comes from a young crippled woman, a blind healer who insinuates herself into their lives and hearts with devastating consequences for them all.
-What did you think of Bucino as the narrator?
B: I was not a fan. I guess I expected more from this book, more courtesan stuff, not just him going shopping and being boring. So I would rather have had no narrator in that sense. Hers and his pov would have been better.
C: It was certainly an interesting POV. I didn't mind seeing the world from his eyes, but honestly, I wish that the author would have done half and half. Half Fiammetta's and half of Bucino's.
-And him as a person?
B: He can't have been very memorable. I read the book yesterday and I am already forgetting him. He was not very nice, well he was nice, but then not so much.
C: Meh. He was okay. An interesting character, but he was not very nice. He pretty much caused the death of another character and it was not nice. However, he is a courtesan's "pimp", so I guess he has to be mean sometimes.
-I did not really get the feeling of Fiammeta as an awesome courtesan, did you?
B: Well I already answered my own question. I never got that feeling like she is the best. We were told she was super pretty, but any whore can be pretty. Since she was not the narrator I never really saw if she was any good.
C: She was certainly a beauty, but I think she let her emotions get the best of her sometimes which took away from her "power". However, I do wish some of the story through her eyes, because maybe she is different when she is actually doing the deed.
-I felt that a few changes could have made the book better, or did you like it as it was?
B: Why are all my questions like this? Anyway, her POV would have been a great start so we could see her life too. As it was now it was good, but sometimes I felt it was only ok.
C: It was alright. I would have had the POV divided between the two main characters. I also wished more action and drama took place throughout the book, because there was a lot of dry spots and it bored me. Simply bored me. However, when the drama and action did come I was hooked! Too many dry spots though....
-What did you feel about what happened to La Drarga the healer?
B: Of course it was wrong, but at the same time, those were the days, people were idiots. It was kind of obvious it would happen to her.
C: Ugh I felt so bad and it was sooooooooooooooo unnecessary! :/ It really made me mad.
-What did you think of the ending?
C: It was a decent ending, but....it felt too easy.
-How did you feel about the writing style of the author?
B: I did think that she was a good writer, I just felt she went about it all wrong. It could have been so much better.
C: Beautifully written! She certainly brought the characters to life and the setting. I just wished she would have given more spotlight to the courtesan.
-Courtesan, healer/witch, nun, or arrange marriage? Why?
B: Ohh tricky! A courtesan still has choice. A witch may be free, but is also doomed. A nun, god NO! Arranged marriage, eh, could work, I would do my thing, he would visit his courtesan so I go with arranged marriage.
C: Heck no to the nun; worse then death for me. Honestly, I am torn between a courtesan or an arranged woman. It probably depends on how pretty I was. If I was meh, an arranged marriage, but if I was super pretty, I would be a courtesan and save up a whole bunch of money and never need a man.
**Carole's Conclusion:
In the end, this was meh for me. It had lots of dry spots and few really juicey, drama-filled parts. I wish that the other would have alternated the POV. I think it would have made it far more interesting! The ending was okay, but I felt like it was too easy. I shall stamp this with 2 stars.