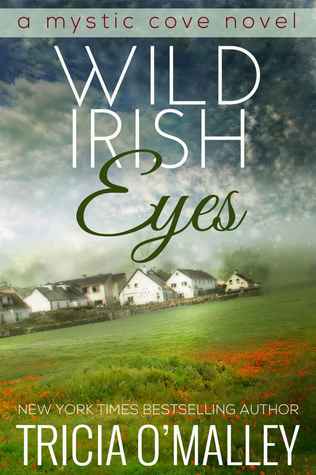 Author: Tricia O'Malley
Narrator: Amy Landon
Title: Wild Irish Eyes (Mystic Cove #2)
Genre: Paranormal Romance & Fantasy
Pages: Audiobook
Published:
September 12th 2014
Where I Got It: My shelf (Audible)
Oh, to stop the voices in her head.
Other people's voices, that is. As a pub owner with an extra special gift, all Cait Gallagher craves is a moment of silence. That, and to own the building her pub is housed in along with the heart of the building's landlord, Shane MacAuliffe. Though she is irresistibly drawn to Shane, her vulnerabilities cause her to put up a tough exterior. When the two butt heads, more than sparks fly, and Cait finds herself trembling on the precipice of love.
Shane has watched Cait for years. Stubborn, beautiful, and with a trim body that he is dying to get his hands on, Cait is it for him. And yet, she continues to infuriate him by walking away from his kiss. Every time. At his wits' end, Shane doesn't know what to do to make Cait his own.
Unapologetic and fiercely proud, Cait must conquer her insecurities and reveal her true self to Shane or face losing everything.
I was so excited to see this randomly! I read book one ages ago and I've been dying to move forward in the serious. Especially with Cait. I wanted to learn more about her.
Cait can read people and animal minds, but she has a code of ethics and only uses her power in certain situations. I would be the same. There are times I would really NOT want to read someone's thoughts. Poor girl had a rough time in school before she could control it. UGH! I can't even imagine!
Shane is Cait's landlord. He is rich and hot. I did not like him at first. He was a moron and I wanted to kick him. I sort of warmed up to him later on in the book. Why didn't he just ask her out? Games are not fun...sorry. And I wanted to give Cait a kick here and there. Use your powers girl! OR just take two seconds and hear him out. Just walking away and running away gets you nowhere. UGH. So many miscommunications and the darn girl can read minds. SMH. I get it, I get it. She likes him too much to sneak in there. But still.........
Anyways....
I enjoyed the story a lot. It was nice to see more of Cait and her story. Poor girl had a rough beginning, but she really has made something of herself. This was a quick listen and I want more!
I honestly want to live in this town!!!! The people are awesome and it is so beautiful. I want to have a pint with Cait!
Oh! Nearly forgot to comment on the narration...
She was really good. She drew me in from the first sentence! I'm glad she does the next audio too.
In the end, I enjoyed this story. Shane was eh. He did get better, but still eh. I liked Cait even though she needed a good kick in the romp ;). A fun series. I want more. I'll give this 4 stars.