Hey everyone! Instead of posting my 'Music Monday' I wanted to share this giveaway for you guys! Remember my review for her past book The Prophet? Click here to check it out. I'll share my FFF later today. ^.^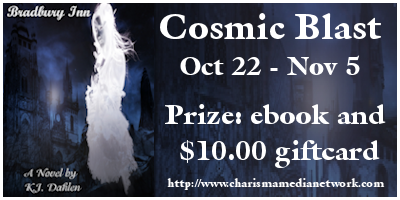 Bradbury Inn
The town is filled with rumors claiming that Bradbury Inn is haunted by the spirits of Claire and Matilda
Bradbury along with a man named George Walker after a fire destroyed it eighty years ago.
Jillian Levy came to Bradbury Inn to discover the truth. Shortly after she arrives the other person who was at the Inn all those years ago returns.
Mathew Nixen has returned to find his true love, Matilda. He believes the only way to break the curse the inn is under is to find her. He knows that George used voodoo to protect the woman he loved and now they must use voodoo to protect Jillian. They must get Jillian out of the inn before Death comes to take the souls he was denied so long ago. Can they save her in time? Buy on Smashwords
I live in a small town (population 495) in Wisconsin. From my deck I can see the Mississippi River on one side and the bluffs, where eagles live and nest on the other side. I live with my husband Dave and dog Sammy. My two children are grown and I have two grandchildren. I love to watch people and that has helped me with my writing. I often use people I watch as characters in my books and I always try to give my characters some of my own values and habits.
I love to create characters and put them in a troubling situation then sit back and let them do all the work. My characters surprise even me at times. At some point in the book they take on a life of their own and the twists and turns they create becomes the story. Of all the stories I could write I found I like mystery/thrillers the best. I like to keep my readers guessing until the very end of the book.
My book titles are: Bones, The Darkness Within, Meghan's Legacy, Shadow Chaser, Witness, Secrets and Lies, Legacy of Murder, The Unknown Son, The Prophet, No One to Hear You Scream, Bradbury Inn, Murderous Intent, Wrong Number, Fall from Grace, The House on Berkley Street.
Open to World Wide Residents 18+. Ends November 5th.
a Rafflecopter giveaway (follow this link to get to enter)
=======================
<3CaroleRae