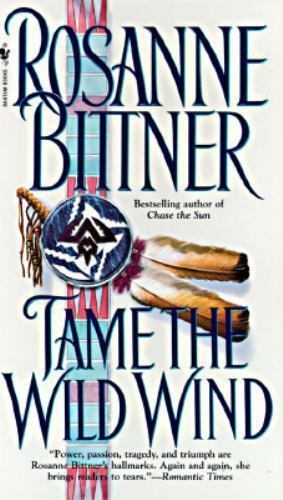 Author: Rosanne Bittner
Title:
Tame the Wild Wind
Genre: Historical Romance, Western
Pages: 432
Published:
September 1st 1996
Where I Got It: My shelf (Library Book Sale)
Half-breed Gabe Beaumont had had to choose between the Sioux tribe of his mother and the white family of his father, and his choice had cost him everything. Settlers had murdered his Indian wife and child, and now revenge was all he lived for.
Riding westward with a renegade Sioux band, he became Tall Bear, a warrior with a wounded soul, a man with an anger and grief that tore away his gentleness and dreams--until a raid on a Wyoming stagecoach station brought him face-to-face with a feisty, red-haired beauty who would change his life...
Faith Kelley had run from her strict, pious upbringing toward the freedom of the frontier and a reckless husband. All too quickly, tragedy left her alone with an infant son and shattered plans. But Faith had drawn strength from the soaring hills, and her to
ugh-minded courage flared when Indians attacked the stage stop that had become her home. She never guessed that Gabe Beaumont, the handsome, dark-haired cowboy who later rode into the station, was the Sioux warrior who had led that raid. He had changed worlds to claim the woman who was his destiny--and to fight for her love against the shadows and the danger that lurked in his wild heart
This was a random pick up at the library book sale in Flint. WHICH is a blast. For 5$ you got a HUGE bag and you can shove as many books as possible into it and it is yours. They do this sale twice a year. Totally worth it if you happen to be in the area. But yesss this was one of the many I grabbed.
The story follows Faith and Gabe. Faith runs away with some yahoo Johnny because she wants adventure and to be free from her family. Mind you his own mother warns against the boy, but does Faith listen? Nah. Gabe is half Native and half white. His father was murdered so he and his mom move back to her people. Things happen and his whole family is killed so he goes to get revenge. Things happen and they somehow fall in love.
Where to begin with this hot mess of a book?
Okay. FIRST Faith. OOOOOOO you idiot. She only wants to run away with this yahoo man because she wants to be free. His own mother was all MARRY ANYONE BUT HIM. PLEASE. He's an idiot. But nope. Even after he betrays her, her father comes to save her and she is all I LOVE HIM DAD! GO AWAY! Time goes on and the yahoo dies. No spoiler there. She is all alone and preggo. Great. She gets lucky and finds a widow at the fort to take her in. Great.
Now here comes Gabe. Oh Gabe. I do feel for you. Father killed. Mom killed. Preggo wife and baby son killed. Life is not nice to him and he wants to kill people. Can you blame him? Especially because the Whites killed them. Gah. Damn racists. But yes. He stumbles across preggo Faith and helps her take care of the idiot husband of hers. They then don't see each other for a long while. Where did this kindness come from? You shoulda murdered her. But whatever. Love/lust/stupidity. Who knows??
Now…here is my biggest and main issue with this entire story. This is supposed to be a historical romance. There was really no romance. There was no chemistry. The two barely even spent any time together. Maybe a hand full of pages? Heck…it took 100 pages or so for the two to even meet. Maybe I would've felt different if this was just a generic Historical Fiction? But even with that the two had NO chemistry and it was awkward when they were lovey-dovey.
The ending drama was intense and it did hook me. I was soooo worried and had no idea how everything was going to be fixed.
All-in-all, I am super disappointed by this. The story was dry and the romance even drier. The characters annoyed me. The only little gem of the story was the ending drama. Wasn't sure how THAT was going to be fixed. Other than that. NO thank you sir. I would not recommend this if you are looking for a HR. I'll give this 2 stars. The ending did earn one star for being super intense and pretty good.