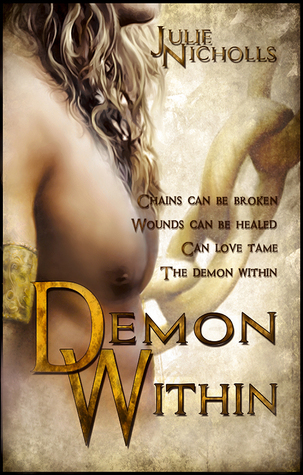 Author: Julie Nicholls
Titles: Demon Within (Fallen Angels #1)
Genre: Paranormal Romance & Fantasy
Pages: ebook
First Published: November 2014
Where I Got It: My shelf (Amazon freebie)
When Angels ruled the heavens and mortals...one dared to risk everything for the love of a human and paid the price of eternal damnation.
Kai, sold into slavery at a young age, fought in the fighting pits of Darkmide, struggles with a violent, uncontrollable force that feeds on his anger. Coerced into an alliance with a King, Kai is offered his daughter Eloise, as a wife. In a twist of fate, she's the only person able to bring Kai back from the edge when the demon within takes control.
When an act of betrayal causes the alliance to break, he rejects Eloise, bringing forth all his fears of being alone. Stubborn and running away from confrontation, Kai is about to lose the only person who isn't afraid of him.
A connection between Kai and a fallen angel is discovered, as the angel systematically destroys all towns he's connected with, bringing the two together in a fight for dominance. Only time would tell who would prevail.
When I seen it was a freebie I snatched it up and couldn't wait to read it, since there were SO many good reviews on Goodreads and Amazon. I was super giddy. :D Which turned into a slight panic....would I like this as much as anyone else? So I put this on hold for a hair.
I am filled with mixed emotions.
I liked it, but then I didn't like it. Gah. The book, at least for me, had three different sections.
Section 1 (aka the beginning): Interesting. The world-building was decent, even though I wanted more, and the characters being introduced intrigued me. There are SO many characters and SO many POVs. It was overwhelming at times, but I was interested to see how all these characters were related and connected.
Section 2 (aka the middle): There was some major drama. Old secrets coming to life, magic, Kai's backstory, and so forth. However, all of this was a total meh. I rolled my eyes SO much that I thought my eyes would would roll away (sorry - I am super tired). I wanted to care, but I simply didn't. The old secrets seemed stretched and just meh. I wanted more angels and demons!!
Section 3 (aka the end): I was glued. I had to know what was going to happen. Something interesting was actually taking place and everything was connecting together nicely. I'm glad I stuck it through the middle, because I adored the ending.
As you can now see....I am stuck. I liked it, but I also regret it. The middle really sucked away my interest, but I skimmed and the ending had me hooked. Honestly, I felt the romance aspect took away a lot of the story. Yes, yes, have the romance I did like Eloise and Kai together, BUT the world-building needed more depth. Also, I wanted more angels and demons darnit! The fantasy/paranormal aspect felt flat sometimes. Kai's "inner demon" was a bore too. He should have been angrier and less sorry for his "demon" and his outbursts. It was annoying and hard to explain.
Overall.... I just wanted more from this. If the rest of the book was like the ending I would I have been in love. There are other books in the series, maybe I can check out the next one.
Out of five stars, I stamp this with.......2. Nearly a 3...but yea.