This month Blodeuedd and I will be reading 'The Snow Child' by Eowyn Ivey! :D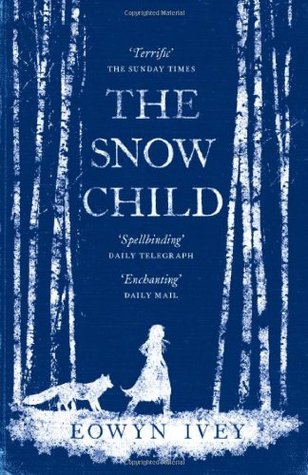 Author: Eowyn Ivey
Title: The Snow Child
Genre: Historical Fiction, Magical Realism, & fantasy
Pages: 386
First Published: Janurary 2011
Where I Got It: Borrowed from library
Alaska, 1920: a brutal place to homestead, and especially tough for recent arrivals Jack and Mabel. Childless, they are drifting apart—he breaking under the weight of the work of the farm; she crumbling from loneliness and despair. In a moment of levity during the season's first snowfall, they build a child out of snow. The next morning the snow child is gone—but they glimpse a young, blonde-haired girl running through the trees.
This little girl, who calls herself Faina, seems to be a child of the woods. She hunts with a red fox at her side, skims lightly across the snow, and somehow survives alone in the Alaskan wilderness. As Jack and Mabel struggle to understand this child who could have stepped from the pages of a fairy tale, they come to love her as their own daughter. But in this beautiful, violent place, things are rarely as they appear, and what they eventually learn about Faina will transform all of them.
B: Ok, how should we start today?
C: Mmmmm, first I want to ask the question: do you believe the girl was the snow maiden or just a regular girl?
B: I liked how the book felt like magical realism, and I did wonder in the beginning. But then after the dad was found, it still felt like magical realism, and I loved it. But no, I did not think she was the snow maiden. She was a regular girl.
C: Agreed. Like Mabel I wanted her to be the snow maiden. However, I like how the author leaves it up to reader. There sure is evidence that she IS and that she ISN'T.
B: Yes, she did that well. Magical realism, and still no magical realism cos there is no magic. Ohhh, I like. But then I adore books like this. Where magic can be felt and they just feel so special. I had high hopes for this book and it turned out to be awesome :D
C: It was nice! I was worried that it was going to be too fantastical, but the Magical realism was nice. I was also worried that I failed and picked a stinker, because the first 25 pages were super slow. I could barely keep going, but once I hit page 26 I was good and I read it within 24 hours! :D That is rare for me ;)
B: Really? I am glad you read on. I knew from page 1 that I loved it :) I can like slow if the words are just sweet poetry to me. Ok so not poetry. But it flowed, steady and nice. I felt the story, the sadness, yes it is pretty obvious that I liked this one. Not only for the story, but for the excellent writing.
C: I loved her writing style! It was beautiful. However, it was the story at first I was worried about and Mabel. I did not care for Mabel at first (in those 25 pages), but then I understood her more as the story went along and I liked her. What did you think of Mabel and Jack?
B: I understood how she wanted to be out there all alone, no people. No one asking about them and all that. A fresh start. But you need people, and I liked how she slowly understood that. Jack, oh he was working himself to death wasn't he? It just made me sad for them. They need something in their life, and they received that.
C: Poor Jack. He was working himself to death and get why he didn't want Mabel to help, but honestly….she should have just went out and started doing stuff. But yes, they certainly received that something!
B: Yes, she should have helped more, baking pies to sell is not all she could do. But then he should have asked. She did ask him, but he was all I am a man. I can do this stuff. And yes it was a hard life, but there is always something to do.
C: Of course he is going to say that! He is a 20th century man. lol. That is why she should have just put on some pants and went out there. So….the ending….what did you think?
B: Ok, the ending, how not to spoil things. It fit. It made me sad. It made me hopeful. It made me believe. It made me question things. It was sadly a great ending. I could not have seen another ending.
C: Yes. It was the perfect ending for Fania and the whole story. It was sad and it made me mad for a hair, but then I realized that it was meant to happen. The author threw in so many foreshadows throughout the book. Especially with the one part with Fania's dad…...I wish I could say, but yeah.
B: But there is always hope, and yes I admit, I held on to that hope you know. If you catch my meaning ;) No spoilers.
C: I get the hope and I see it! However, I am a negative person, so I am assuming the worse ;).
B: No, no negativity! Hope is alive. Nothing was found. Everyone lived happily ever after :) Sort of.
C: Poor Garrett...even though he knew what he was in for. hahaha Okay….okay….I will pretend that everything was happy and full of rainbows ;)
B: Rainbows :D And lots of potatoes, moose and strawberries to eat for them.
C: Hahaha and blueberries. Now...do you think you'll read more by this author? I know I am curious to see what else she has up her sleeve!
B: I checked at once and saw that she only has this short story :/ That made me really sad. I loved her style, and I would love to read more by her. She must write more!!!!! I would love for her to mix in another fairytale too.
C: WHAT?! Now I AM UPSET! Maybe she is working on something while we are speaking????? SHE MUST! I would love another fairytale!
B: Reading her blog at the moment. In December she talked about her manuscript being ready so there is hope, there is always hope!!!
Do you have anything else to add? Any questions?
B: Not really. I only want to add that everyone EVERYONE must read this book. It was fantastic, fantastical. Great writing, great story. A must read for every fiction lover
C: I totally agree! I may pick this book for my book club when it is my choice of book! :D It's really good.
B: I found a name, Shadows on the wolverine. We should totally review it when it is out...like in 2016 *sigh*
C: Ooooooooo. I am game! I am even willing to pay for it...maybe….haha.
B: LOL. I did get this one from the library. Thank you library for being awesome!
C: Same here! Thank you library! It is beaten up and has been loved a lot it seems. :)
B: Let's call this the end then, and your turn to pick a book right?
C: Ok! Good job buddy! I picked this one remember? LOL YOUR TURN! Mwuahahahahahahahahahaha *munches on carrot*
B: But I gave you a list of books my library has ;)
C: LOL and I happen to have wanted to read this book for a wee bit. ;) FINE…..I will pick again! WAH!
B: or shall I give you a few my library has suggestions? *jumps up and down*
C: I will take your list and contemplate...haha….
B: The end :)

**MORE FROM CAROLE:
In conclusion, I really liked this book. It was a quick read and I got it done within 24 hours. As you know, that is rare for me. haha. I did love the characters even though Mabel annoyed me in the beginning, but I grew to understand her more. The ending was bittersweet and it was sad, but there was some hope. The only issue I had with the book was the beginning 25 pages....I was worried the story was going to be a let down, but it certainly got better! The writing style was simple beautiful! No other words can describe it! Out of five stars, I stamp this with 4 stars.
Favorite Character(s):
Jack, Ester, George, & Faina
Not-so Favorite Character(s):
Ummmm...no one in particular.