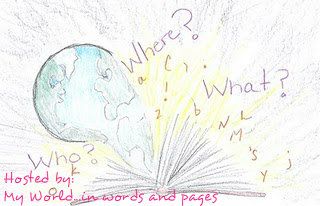 A weekly meme created by Melissa over at My World in Words & Pages. You share just a bit about where you are, who you are with, and what is happening in your current read. Be careful not share any major spoilers.
Happy Wednesday everyone! Sorry for lack of posting. Life has been crazy the last few days. Haha. Anyways...this week I'll be sharing a little WWW for The Picture of Dorian Gray by Oscar Wilde. I've been dying to read this for years. However, I'm a werido and I prefer owning the classics that I read (besides for short ones like Of Mice and Men, since it took me just a couple days to gobble down). I finally stumbled upon this at a Frankenmuth used book store. Yes, I go to Frankenmuth and I find myself in one of their book stores. I'm a true book-addict.
I'm with

Jim and Mama Vane

in

19th century England at their small abode behind the theater.

They are

discussing the insanity, but also the wiseness of the engagement between their little Sybil and "Prince Charming". Jim is not a happy camper and says that "Prince Charming" better love his little sister for life or he'll hunt him down and kill him. Mama Vane, though impressed by the melodramatics of her son, is telling him to calm down and that all will be well.
===================================